SAVE THE DATE
next edition
3 & 4 septembre 2022
Hello everyone,
It seems that a new pandemic is about to hit and which it is called CAVID 21!
Luckily we can already offer you a vaccine, which is known, recognized and tested for many years by our winemaker François Imhof from Rivaz. The doses are not limited and it is even recommended to take it regularly. Excessive use is not indicated, however we can always provide you with extra bottles or boxes if necessary. The common side effects are cheerfulness and very often the continuity of conviviality. To avoid any inconvenience, it is strongly advised to remove the mask for oral injections. The tests can be done simply by visiting your wine cellar and if there is still room, it is a sign that it is time to acquire a few bottles to support the organization of this event. You are also free to offer to your family and friends for Christmas, the selection of your choice or the discovery.
No certificate is required! Only the sales form hereafterneeds to be filled out and orders should be announced by email info@gpretrocurtilles.ch or to the committee members until December 5, 2021. The delivery will take place in Curtilles on Saturday morning, December 11th.
Subject to the necessary authorizations, we will open the registration for the pilots at the end of January 2022.
"Let's get out of the pandemic together" and meet in Curtilles on September 3 & 4, 2022 to experience this second edition.
Thanking you for your support, we wish you all the best and we are looking forward to seeing you soon and at the latest in September 2022.
The Committee of the GP Retro Curtilles                                                                   info@gpretrocurtilles.ch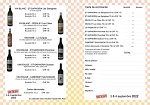 Voilà, c'est fait. Une deuxième édition avec de la pluie et plein de soleil. Du bruit et plein de sourires.
Merci aux spectateurs qui ce sont déplacés en nombre pour assister à ce show mécanique.
Merci aux pilotes et copilotes qui sont venus à Curtilles, qui ont bravés le déluge du samedi, la chaleur du dimanche et qui ont presque tous réussi à rester sur la route jusqu'à Prévonloup.
Et un grand merci aux bénévoles qui nous ont soutenus et aidés pour organiser cette magnifique édition 2022.
Rendez-vous (peut être) dans quelques années pour une troisième édition de GP Rétro de Curtilles.
...

See More

See Less
Un rassemblement de véhicules historiques de courses qui s'est déroulé à Curtilles dans la Broye-Vully canton de Vaud. Un endroit improbable pour une telle c...